Zoology class focuses on hands-on experiences with course refresh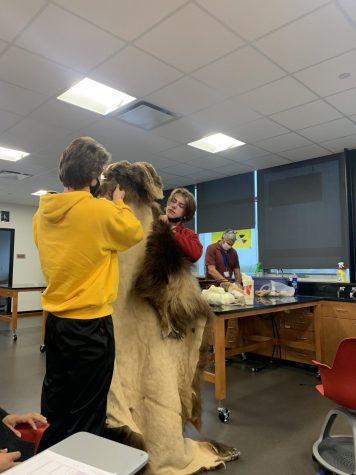 As students consider courses for next year, it becomes clear how many options MHS offers. Zoology is one such offering. Known throughout the student body for its inclusion of dissections, the course also presents other learning opportunities, including aspects of animal life and evolution to guest speakers from various careers that rely on the content learned in Zoology.  
"I've rewritten the entire course," said Alyssa Wiltjer, who teaches the course that is open to all grade levels. "It traditionally had been notes, dissection, then test, but I am trying to make it more hands-on."
The class is moving in a different direction with more observational experiences, chances to ask and explore open-ended questions and the opportunity to look at animal evolution. 
Wiltjer said she is excited to see how the class is changing and looks forward to the different experiences future Zoology students will have in the course. 
"Anyone who is interested in learning more about animals or is thinking about taking Honors Anatomy, physiology or AP Biology, this is a great precursor, especially with dissections for that course," Wiltjer said. "If you don't like dissections, I would still say take [the course] because, in the future, we are going to be adding more things, and that won't be the main focus."
Wiltjer has brought into the class multiple guest speakers, including a taxidermist, a veterinarian and a biologist. Getting to see some professions students may not have considered allows students to gain a perspective about the many different career paths the sciences can create. 
"I liked the taxidermist; that was pretty cool," Freshman Brandon Marono said. "I could definitely see myself doing something like that."
Wiltjer explained in an email why she decided to bring in a taxidermist, which the Oxford Dictionary defines as "a person who practices taxidermy– the art of preparing, stuffing and mounting the skins of animals with lifelike effect." 
"Taxidermy is an important field that reaches far beyond the outdoors community," Wiltjer stated.  "Many museums, such as the Field Museum, have taxidermists who work on preserving species for scientists to study.  Researchers can study the taxidermy, allowing them to examine animal specimens that may no longer exist or are hard to find in the wild."
Besides being in a class that exposes students to a variety of careers, the class also exposes students to peers from all grade levels, which some students identify as a benefit to taking the course.  
"It helps you interact with people, especially because it is group-based," Marono said. "It helps you interact with people who aren't just your age and expand[s you] out of your comfort zone." 
Marono said the class offers a lot of teamwork aspects. For example, students will work with others on hands-on projects in an independent environment, such as with dissections.  
Students noted Wiltjer lets her students problem solve on their own but is ready to answer questions and provide help when it's needed. 
"Ms.Wiltjer actually lets us do everything on our own," Alex Devine, junior, said. "It's a lot of do-it-yourself and discover your own things."
While some of the new aspects of the course have already been implemented this semester, Wiltjer continues to plan ahead.
"I am really excited for next semester and how it's going to look so different," Wiltjer said. "[I am] looking forward to all the new stuff we will be doing."