The Girls Who Code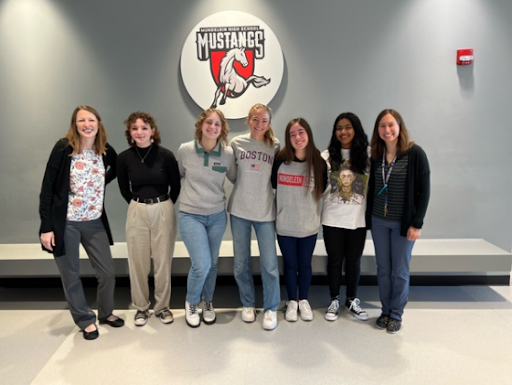 Girls Who Code is a new club at Mundelein High School that teaches girls and nonbinary students to code. Code is a set of rules or a system of communication, sometimes with arbitrarily assigned letters and numbers each giving a specific meaning, Girls Who Code gives members that chance to grasp and understand code.
  Andrea McCulloch and Marissa Grayson who sponsor Girls Who Code states how Girls Who Code originally became a club at MHS. "Girls Who Code at MHS began organically by students. It began last school year by a group of students who knew of the national organization and wanted to start a welcoming space for girls and nonbinary students at any level of coding ability, from beginners to experts." 
  McCulloch and Grayson continue to explain what the club is like for members. "Students who attend a Girls Who Code meeting can expect a welcoming and supportive environment of students with common goals and interests. During our meetings, we have frequent team-building and community-building activities and learn the basics of coding. We will eventually move toward student-driven and student-created programming projects. One future goal is to participate in a Hackathon. Girls Who Code has been driven by our dedicated students, who plan our meeting activities and work together to meet the needs of all of our members," stated McCulloch and Grayson.
  Senior Alicia Brak, who is on the Executive Board of the new club, shared, "Honestly this club is the perfect opportunity to grow as an individual. There are so many things this club offers from social skills to problem-solving. The combination of sisterhood and coding activities allows girls to learn how to interact with others and learn something new. Coding is a perfect creative and analytical outlet. The simple reason is that you will have fun meeting new people and participating in activities."
  The club can help members interact with one another and make new connections. Executive Board Member Leila Moon, senior, shared, "Whether you join Girls Who Code or Computer Science Club at MHS, coding is not only a skill that you may find useful in the future, no matter what career you choose but also is a confidence builder. In GWC, we're currently learning Python and frequently have to solve problems or pick out errors we've made in our code. After several sessions of solving problems and editing code, a member of GWC or CSC has built up the parts of the brain that correspond with those tasks. Knowing this and continuing to practice coding strengthens members' confidence in problem-solving and critical thinking."