'I Must Betray You' brings history to life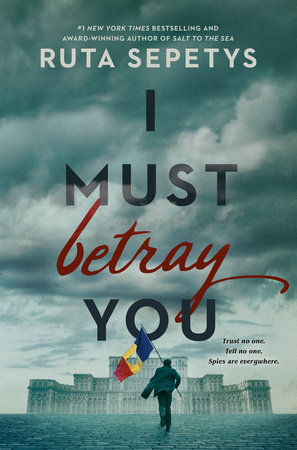 Ruta Sepetys is known for uncovering stories lost to history and bringing them to the forefront of the minds of readers. Her newest novel, "I Must Betray You," is a classic example of her ability to make history human and compulsively readable. 
   Set in the end stages of Nicolae Ceaușescu's communist dictatorship in Romania, "I Must Betray You" follows a Romanian teenager named Cristian Florescu, who is blackmailed into becoming an informer for the secret police. In exchange for the promise of medicine for his sick grandfather and the oversight of accusations of treason against him, Cristian must spy on a family of American diplomats and betray those closest to him. In spite of the horrors he faces, Cristian is steadfast in his ambitions to help free Romania and set revolution into motion. 
   Sepetys said in a Jan. 25 Publisher's Weekly article titled "Four Questions for Ruta Sepetys" by Ingrid Roper, "In all my books, I write about young people who are fighting for change. In Romania it was the young people who made the revolution [in 1989] happen— these defiant young people who had a dream of freedom that couldn't be stopped."
   Written in short chapters with a cliffhanger at the end of each, the book flows in a way that begs the reader to continue reading. The book showcases the damage that fear and distrust brings to friends and family, as Cristian sees his closest relationships come under tension from the regime.
   The day-to-day reality of a Romanian citizen is shown through Cristian's experiences in small touches throughout the book– going to secret movie showings, waiting in long lines to receive rations of food and living in a one-bedroom flat with his family of five– all of which make the book all the more human.
   Sepetys was inspired to write about the 1989 Romanian revolution after a tour in Romania for her debut book, "Between Shades of Gray." She was sitting outside along with her publisher, interpreter and others, when a woman checked the underside of the ashtray in the middle of the table in search of a recording device out of habit. When Sepetys asked about it, she told her about the fear and surveillance instigated by the secret police during Ceaușescu's regime.
   Sepetys said in the Publisher's Weekly article, "I realized in that moment that there are so many different faces and brands of communism, and I knew I wanted to write about it and to peel back the layers on the story of Romania. Can you imagine this world in which your nutrition is controlled, a woman's body belongs to the state, your electricity and water is rationed, and everything you do is watched? It sounded so dystopian, but it was real."
   Sepetys' research for the book spanned years, involving many historical documents, texts and first-hand accounts. She said in the Publisher's Weekly article that she conducts about 75-100 interviews per book– one of the most interesting and exciting parts of her research. 
   "By far the most important research to inform my character was my interview with Nicoleta Giurcanu, who was 14 at the time of the revolution, and who took to the streets as many of these young people did. They had no weapons. They were attacking tanks with their bare hands. The regime began to gun down the students and she was arrested and endured the horrors I describe in the book. I was wrecked after that interview. She was crying, I was crying, and in my bald ignorance I felt like how can I not know this story?"
   The revolution itself is the climax of the story, as Cristian was one of the protesters who was willing to face horrific circumstances for the greater good– a story similar to that of Sepetys' description of Giurcanu. The lengthy research that went into "I Must Betray You" shines through in this way, as Sepetys does an excellent job of incorporating the human experience into a historical event and painting a picture of just what life was like– it is fiction so vivid that it could be passed off as a non-fiction account. 
   Sepetys has given a voice to those silenced in the past, allowing them to be amplified today. 
   "I Must Betray You" is endlessly engaging while giving readers a window into a relatively unknown world.
   Sepetys said in a Jan. 22 Kirkus Reviews article titled "Ruta Sepetys Makes History Thrilling for Readers" by Laura Simeon, "I hope readers will ask themselves how they would respond if their entire life were an existence of enforced obedience— being listened to, being tracked. If there were microphones in their light fixtures, their bathrooms. If they were recruited to be informers against those they love the most. Would they? We think we know how we would react, but I would say, read the book and ask yourself."