A Look Into the Final Week of Rehearsals for Mundelein's First Fully-Staged Musical since 2019.
Due to the COVID-19 pandemic, Mundelein Theatre hasn't been able to put on a full musical since the seniors were freshmen, but that didn't stop staff and students from putting on an in-person show this spring. Starting in February, 75 students came together with the help of several teachers to work both onstage and off to put on "The Addams Family." 
The cast included Gomez, played by Junior Will Gonzalez; Morticia, played by Senior Addison Salski; Lurch, played by Senior Lance Evans; Fester, played by Junior Josh Jaffe; Wednesday, played by Sophomore Taylor Gates; Pugsley, played by Senior Chris Nacion; and Grandma, played by Senior Tori Collins. Besides the Addams Family, there was also the Beineke family, which included Mal, Alice, and Lucas played by Seniors Kessler Young, Katie Myrant and Eli Walter. There was also an ensemble of Addams Family ancestors played by students from all grade levels.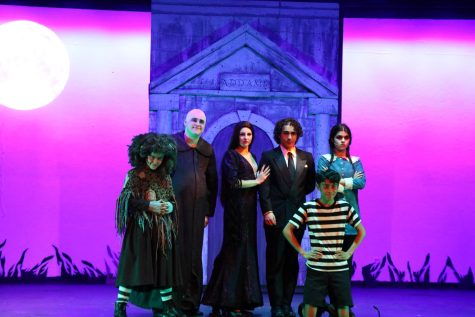 Photo by Hadyn Nuttall
Mundelein Theatre Presents "The Addams Family": During the final dress rehearsal before opening night the next evening, the curtains open on the Addams Family standing in the graveyard while the ensemble sings offstage.Since this scene is the audience's first glimpse of the stage and the cast, it sets the tone for the show to come. Senior Addison Salski, Morticia, said, "As performers we were waiting for that audience reaction that had been missing for over two years, and we finally got it."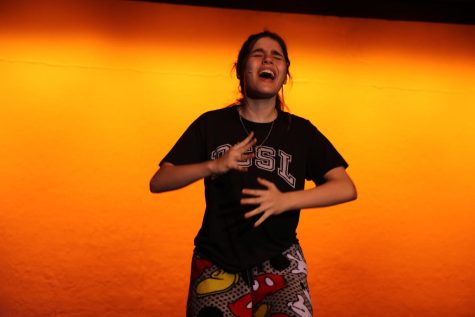 Photo by Hadyn Nuttall
Wednesday in Love: Wednesday Addams sings about how love has her "pulled in a new direction" before the dinner where her 'normal' fiance will meet her wacky family.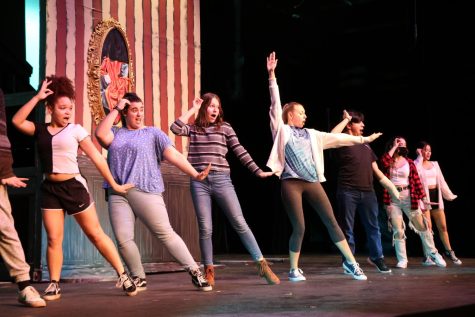 Photo by Hadyn Nuttall
Death and Dancing: Morticia and the Addams ancestors practice the song "Death is Just Around the Corner" during a run-through of the show.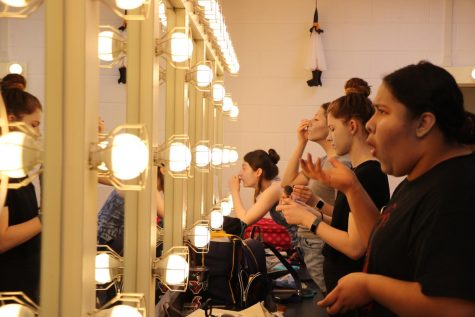 Photo by Hadyn Nuttall
Deathly Demeanor: Addams family ancestors do their makeup for the first time for a dress rehearsal on the Saturday before opening.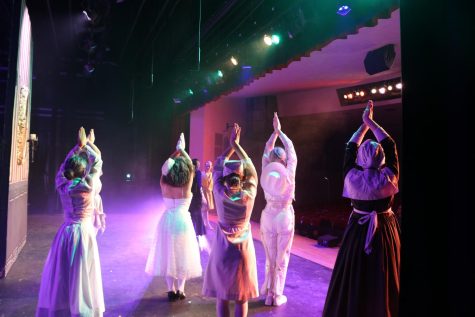 Photo by Hadyn Nuttall
The Dance Routine: A view of the Addams family ancestors is offered from the wings during the final dress rehearsal as the ancestors dance around Morticia as she sings about the dangers of keeping secrets.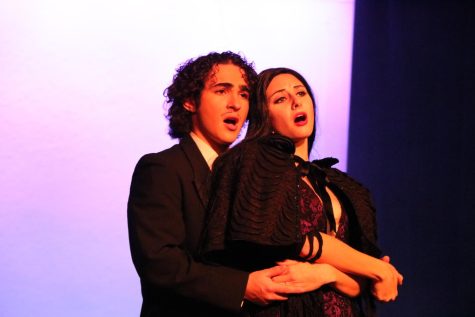 Photo by Hadyn Nuttall
Side by Side, As Gloomy as Can Be: Gomez and Morticia share a moment singing about love and life after Gomez apologizes for keeping a secret and professes his love for Morticia.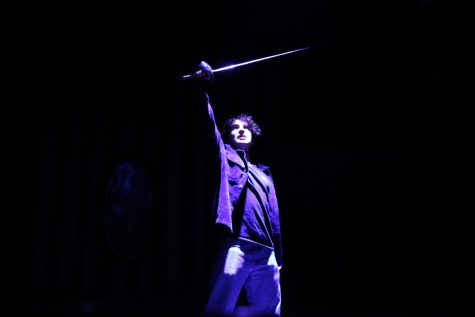 Photo by Hadyn Nuttall
Trapped: During his performance of the song "Trapped," Junior Will Gomez struggles with what he must do to help his daughter at the expense of his relationship with his wife. After singing about indecision and feeling trapped, he ends with this pose of frustration as he is torn between his wife and his daughter. Gonzalez said, "I think we all became much stronger performers in every aspect through this show."