A Look At Mundelein's new principal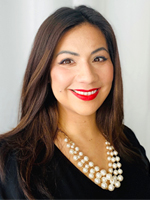 Following an extensive interview process Alexandria Rios-Taylor was chosen to be the new principal at MHS. The interview process included groups of administrators, teachers, and students who were tasked to interview candidates and select the new principal. Taylor's care and excitement for the community as well as her student-facing approach to administration made her a strong candidate.
  "Building principal is the honor of a lifetime. I'm in a privileged seat to be in a building with such remarkable students and staff," Taylor said. 
  Taylor's dedication to best serving the community she leads has been clear from the start.  
  "She was the one candidate that I was the most excited for." said Ryan Buck, an English teacher at Mundelein who was part of the interview process. 
  Buck said he liked that Taylor has a unique approach to solving problems that focuses on understanding the issue before she tries to fix it. 
  Learning and listening to fully understand the needs of Mundelein students and staff is one of Taylor's priorities, "I'd say first is to continue getting to know our students and our staff. I know that sounds very broad and vague, but in general, I have to be able to do that wholeheartedly and genuinely before I can start making recommendations." 
  And she has been listening. Buck said that another thing he was excited about was that even in the short time she's been here Taylor has already started working to address problems that staff brought up to her. 
  As part of this shift to a more student-focused administration Taylor created the position of Assistant Principal of Student Life. 
  The position was filled by former Choir Director Stevee Libert. The new position includes overseeing clubs and activities, student support teams, and anything that is student-focused to "make sure they [students] are having a positive experience."
  As well as meeting students' needs, Taylor hopes to bring students into active decision-making roles at Mundelein. 
  In order to "nurture student activism," Taylor is starting a student-principal advisory council that will meet once a month and provide students with an outlet to solve problems they recognize at the school and share ideas for positive change. 
  Taylor wants the student-principal advisory council to include students from all grades, extracurriculars, communities, and levels of involvement at MHS. Anyone and everyone who has a desire to help guide the future of Mundelein is welcome and wanted and Taylor requests that interested students email her to join. 
  "It's recognizing that there's no one single player that's significant in the room. It's all of us together that makes us successful, and makes us a collective force to be reckoned with," she said. 
  All of this stems from Taylor's love for the students and community of Mundelein. She loves that community is prioritized and that families are the heart of Mundelein and she hopes to be a part of that as she gets to know the students. 
  "I love it when students pop in and say hi, and share a little about their day. It gives me an idea of who they are and then what are their interests and what connections they've been able to make in the building. Because ultimately that's all I want for students. I want to make sure that they find a place where they belong here," she said. And to sweeten the pot she even has candy for students who stop by.
  Taylor also said her perspective as a mother has helped her as she's getting to know students. Her children are also going to school and what she's seen in her children she's recognized in her students. Her children are learning in class and making friends and finding where they belong and have the same need to be heard and recognized as students at Mundelein.
  She said, "I keep that in mind because as a parent that's what I want for my own kids. And it helps me be a better leader for the school building and a better leader for our students."
  Looking forward to the coming years with Taylor leading the school as principal Libert and Buck are excited about the direction she's headed to work with students, staff, and the community to make MHS the best it can be. 
  Said Buck, "I think she can be a strong role model for many students."