Starting a new verse: The rise of new show choir group, Reverb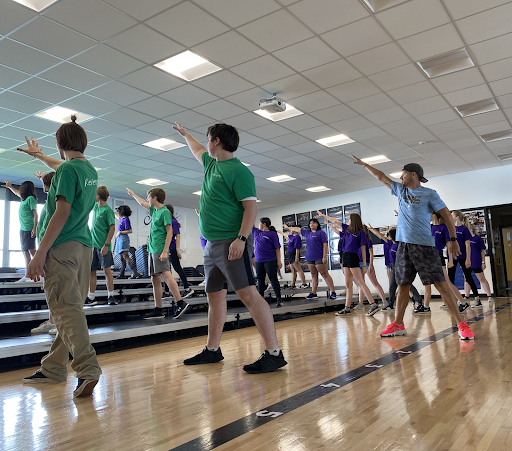 This year, Mundelein High School's choral department is seeing some major changes to their show choir program. Previously, the department consisted of three show choirs: Sound, SoundFX, and Lights. This year, however, they are making a shift from three show choirs to two co-ed groups. 
   "There were cuts to the staffing of the choral department, which prompted the need to consolidate our choral offerings this year," said Choral Director Cory Thompson. "In moving from three show choirs to two, we had to shift from two single gender show choirs (SoundFX and Lights) and one open class group (Sound) to one co-ed prep group (Reverb) and Sound."
   The new show choir, Reverb, serves as a prep group for students. Many of the members are underclassmen, who have never done show choir before. This created an interesting dynamic between them and the returning members, who immediately stepped up to fill leadership roles. 
   "Compared to last year, it's been very different because there's lots more freshmen. Last year, we had a lot of upperclassmen that could act as our mentor towards the underclassmen," said Junior Morgan Jacobson, Reverb class representative. "But now we don't really have that kind of dynamic, so for the people that are returning it's really important for us to act as that mentor for the freshmen."
   Thompson noted that the support from all of the returning students has made the transition to Reverb a lot easier, and that they have served as excellent role models for the younger students.
   "I have been especially thankful and proud of the students who are in Reverb that were in SoundFX or Lights last year," Thompson said. "They have been tremendous leaders this year and it has been really wonderful to have their experience and expertise in the room.  They have done a great job as role models for the new members and helped with this entire transition."
   This week proved to be another week full of new experiences, as Reverb started choreography for their songs. The returning students took the opportunity to help out all the first-timers, because choreography can be really challenging.
   Senior Erin Prinzing, who was part of Lights for the past two years, said the most important part of choreography was being patient with everybody.
   "You have to be patient because everyone is new, and I remember when I was new I liked when people were patient with us when we didn't know something," Prinzing said. "I tell them all the time, it's okay if you only know two steps, and it's okay if you know the entire thing, you will get it. It's only day two of choreography, you will get it, don't worry."
   Despite the challenges that the transition and choreography has brought, the group dynamic is still very strong. They are very supportive of each other throughout the whole process.
   "We're all really friendly with each other," said Jacobson. "We always try to bring it together so it's a group, and not cliques and cliques and cliques and things like that. But I don't think we have cliques in our group, I think that since it's such a fun environment we don't have that type of stuff and it's just really fun to be around each other."
   As the year goes on, the members of Reverb hope to grow even closer, especially since they will be competing together later. This year, they will be competing as a co-ed show choir group.
   "I hope that [in the future] our bond gets even stronger than it is now," Prinzing said. "Well, we want to win obviously. But I hope that we have a lot of fun doing it. I think that's the most important [part]."