Meet the new staff at MHS
With the start of the new school year, Mundelein High School is welcoming many new staff to the school. Take a peek at who's new at MHS.
Derek Gablenz by Lia Koski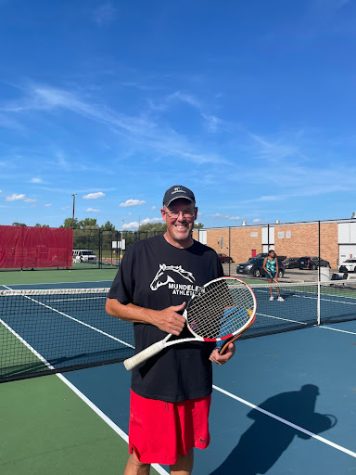 Derek Gablenz is the new girls varsity tennis Coach at Mundelein High School. While he may be new to MHS, he has plenty of experience and new hopes for this year's tennis team. 
  Gablenz started playing tennis his freshman year of high school at Crystal Lake South High School, and since then he has "had over 30 seasons of experience coaching tennis," said Gablenz. This will now be his third head coaching job.
  "I had been looking around for the last year or two to try to find a job, I wanted to get back into coaching and help build the program up and improve it," Gablenz said.
  Gablenz currently teaches social studies at Barrington High School. Ever since the pandemic, he has gotten back into playing tennis because it was "a competitive outlet." 
  "When I first got into teaching I really wanted to be a head basketball coach, that was what I really aspired to be," said Gablenz. Then, in his second year of teaching, the head coach at Jacobs High School (where he was currently working) resigned, giving him the opportunity to step in and coach tennis.   
  "Coaching tennis, it's fun to watch kids get better at something and gain confidence, especially at the end of the season to see improvement," Gablenz stated. He also explained how his goal is to "try to get as many kids to get a racket in their hand."
  Coach Gablenz wants to encourage kids to try new athletic activities. One thing that he is bringing to Mundelein High School is the Summer Tennis Workshop. This workshop will be at the end of July, and it is two weeks of spending a few hours practicing tennis before the pre-season starts. It will also be a fundraiser for the girls tennis program as well. 
  "We are in a really tough conference, probably the best tennis conference in the state. We're trying to represent and are getting better every day," Gablenz said.
Maya Gold by Lia Koski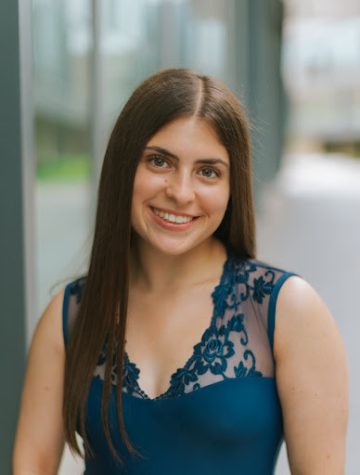 Maya Gold is the new JV dance team coach at Mundelein High School. She is excited to have this opportunity and has many ideas for expanding the program. 
   "I started dancing when I was three like most people [who are dancers], and I fell in love with it right away," Gold described. 
   Gold started her training in dance at Lincolnshire Academy of Dance. She trained in all different styles of dance. "You name it, I did it," Gold commented. Then she was on the dance team at Stevenson High School for all four years. Just recently Gold graduated with a bachelor of arts degree in dance from the University of Kansas.
   "An old teacher of mine had heard about the job [at Mundelein High School] and thought that I would be a really good fit. I was always interested in the dance team world. . .the opportunity came, I took it, and so far I've been loving it," Gold said. 
   Gold hopes that she can work to improve the dance team members' "confidence and not only build dance skills but life skills," she explained. 
   While there might be some challenges during this year's dance season, Gold believes that the "most important thing is to take every issue step by step, figuring out what the main issue is, finding a solution, and then implementing it into practice, at a competition, or a game and to come together as a team to find a solution."
Marissa Grayson by Hannah Roberts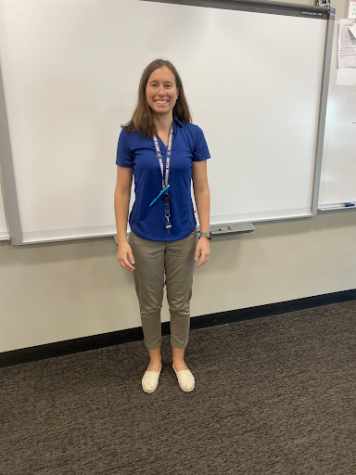 Marissa Grayson, new math teacher at Mundelein High School, has always loved math and started tutoring in college. She loves the feeling of helping others and decided to become a teacher.
   She grew up around Mundelein and knew it was a great place to be. She also already knew some great teachers here that constantly raved about the students and the environment.
   She says that she loves math because there is always a solution and there are many pathways to get there. 
   Grayson mentioned that she is very indecisive and had lots of ideas for professions but when the time came to declare a major she knew she made the right choice. 
   "I didn't always know I wanted to be a teacher, but I did know that I wanted to do something with mathematics," Grayson said.
    Grayson also said, " Teaching is exciting every day and I love getting to witness students learning."
   So far the MHS environment has been nothing but welcoming to her and all the other new staff. She says it feels great to be in a place where the students and teachers are happy.
Elliot Morrison by Kayla Baltazar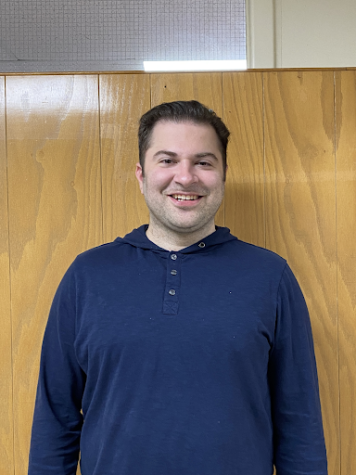 Since it is his first year at Mundelein High School, Biology Teacher Elliot Morrison hopes to build a connection with his students. By getting to know his classes, he can find common interests and be a positive influence on them.
   "I hope to, number one, establish strong relationships with my students. I think [a way] to do that is to just be as open and honest with them about myself. I think that allows them to feel the same with me," Morrison said.
   This year is his third year teaching, and so far his experience at Mundelein has been great. 
   "The students I think were a surprise with how great they are– [they are] engaged in their learning, and the way they interact with each other has just been amazing to me," said Morrison. "Staff has been great. Everything has met my expectations and surpassed them." 
   If you take one of his classes, expect a lot of collaborative projects. Morrison highly values communication amongst himself and other students. 
   "I would say I'm a big believer in group work and class collaboration," Morrison said. "Communication with me is really important. If students run into any issues, just being able to talk with their teachers is a really valuable skill."
Kevin Shifley by Kayla Baltazar
   Whether it's drawing on a sketchbook or making intricate ceramics, the newest member of the art department, Kevin Shifley, hopes to spread his passion for art among his students this year.
   "My goals for this year are to ignite passion and discovery in all my students every day if I can. Maybe implant in them a love for learning and for sure for the arts," Shifley said. "Whether they're taking this class just for a credit or if they're taking my class and they're a future ap kid that will go into art school. Either way I want both kids to have a really fun experience and I want kids to take another class with us."
   Shifley realized he wanted to pursue a career as an art teacher when he was a junior here at Mundelein High School. While he loved art, he also loved sports. He noted his high school experience was very interesting because he had both those passions.
   "I was really into sports but also really into art and there [weren't] many people like that so I kinda tiptoed around a bunch of different groups of people," Shifley said.
   Now, Shifley lives in Mundelein with his wife and children, who will attend Diamond Lake Elementary School. Being able to teach and work at Mundelein, where he lives, is amazing for him.
   "We wanna be here. The people here are awesome, obviously the kids and stuff in the building, but just the community is a place [where] we feel real comfortable and happy, and we think it's a great place to have a family."
Adam Stuart by Kayla Baltazar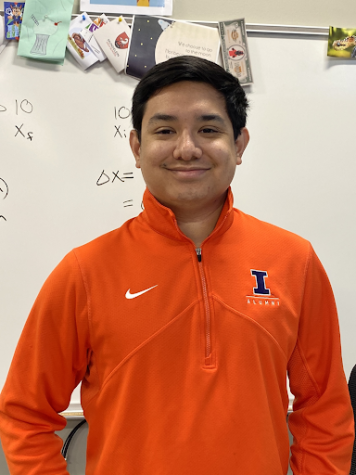 Despite others trying to deter him from becoming a teacher or telling him he couldn't accomplish a set goal, Adam Stuart used that as motivation to prove to himself that he could do it, and even succeed. That drive is something he wants to encourage in all his students this year.
   "I want all my students to have the same thing– [that] even if someone is pointing them in a different direction, I want them to know in their hearts that what they're doing is for the greater good in either their career or their life or anything like that," Stuart said. "I want them to have the confidence to do that as well."
   Stuart has been teaching for three years. He has always been local to Lake County; He grew up in Mundelein, went to Vernon Hills High School, and his first job teaching was at Waukegan High School. 
   When Stuart was a sophomore, his first job was as a camp counselor at Banner Day Camp. It was then when he discovered he wanted to be a teacher.
   "At first I just took it as a summer job– something to do– but then I realized that I was really good at working with kids and really good at motivating them," said Stuart. "In whatever capacity that was, whether it was in sports, whether it was just to try harder, even tutoring."
   This year, Stuart hopes to show his students that the skills they learn in his classes will help them in the future. He hopes they're willing to reach out if they need to.
   "My goal for this school year is to make sure that all of my students not only feel that they have every opportunity to pass, but I want them to feel that they have every opportunity to succeed in my classes," Stuart said. "I want them to be able to realize, okay, I can use this to build upon my skills and further my way, whether that's still here in high school or even if that's building upon it in college."