Focusing on Focal Point: a look at Mundelein's new band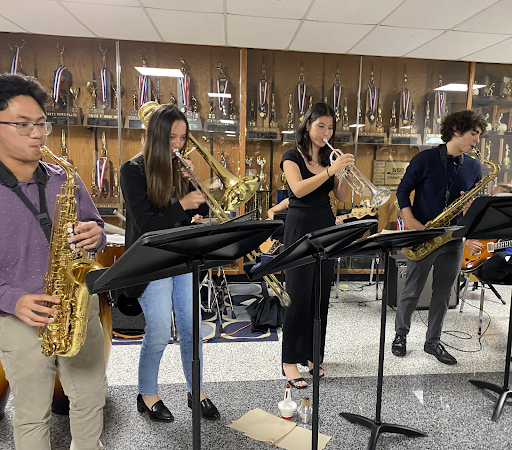 A new, student-led band named Focal Point is quickly garnering attention here at MHS. Comprised of Seniors William Gonzalez, Neil Martin, Eileen Jarrett, Lily Little, Juniors Samuel Penteado, Fiona West, and Sophomores Chloe Langford and Mason Jerome, the band made their debut at AREA Coffee on September 1st.
  "I loved the AREA Coffee gig," said Langford. "Even though it was super stressful for me personally to have to put together everything in around a week, seeing all of my friends and my family supporting me at that venue was so special."
  Preparing for their first performance, the band only had one week to figure out their set list and rehearse. Despite the short amount of time, they got together and practiced a lot that week.
  "We rehearsed so much," Jarrett said. "One day we were there until 8:30, 9:00 at night just rehearsing. It was like my whole life for four days. Monday through Thursday we were just going at it. Mornings, after school, at night."
  When the group started, it was "very spontaneous." Some members had seen another performance by a different band at AREA Coffee, and decided to see if they could do that as well. 
  "Lily and I wanted to start this for a while– since freshman year, but we didn't really have the right people until junior year, but then we just started considering it this year," said Martin. "It kinda all happened really quick."
  "We went to see a group at Area Coffee and Neil turned to us and was like: 'You guys want to play here next week?'," Gonzalez remembered. "That's kind of how the band started."
  Since forming the group, all the members have gotten closer to each other. Many note that their favorite memories with the band are just late rehearsals "jamming out". 
  "I think the rehearsals are my favorite, because we always plan to rehearse for like, an hour, and then we rehearse for like four hours just playing random music and it's just a fun time to be able to jam out with your friends," said Little. 
  "All the rehearsal time that we spend together, it's just such good memories of just jamming," Jarrett said. "My favorite parts of playing are when we're just jamming, and then Sam and I don't even look at each other, and [we're] perfectly in sync. It's like we're psychic. Those are some of the best points– that tightness with everyone. I just like performing with everyone. Sometimes Mason will play a riff on the guitar, and I'll just add in and we'll make up our own song and for 11 minutes we'll just be like, playing this and improvising off each other. The energy is just so crazy."
  Jarrett also notes that the feedback has been "positive all around", especially at their performances at AREA Coffee.
  "We have a really supportive community around us," she said. "When we went to perform at AREA coffee, a bunch of our friends and family were there and it was really nice to have that sort of audience."
  Not only has the feedback from others been rewarding, seeing everything come together and working together as a band has been worthwhile for them. 
  "It's really inspiring to be in a group [where] everyone is just– really good," Gonzalez said. "No one has to really carry anyone else because we all pull our own weight and it's all really rewarding in that sense."
  Now, Focal Point is looking ahead to future gigs and exciting projects. The band teased some upcoming plans and exciting opportunities.
  "I'm looking forward to more gigs, obviously," said Little. "We talked to Tina, from Tina G's and she would be willing to give us a spot to play there so I'm really excited for that."
  That's not the only upcoming project they have planned. As the holiday season approaches, Focal Point is getting together with a videographer to film a music video together.
  "We started discussion on a holiday setlist," said Gonzalez. "Hopefully a little music video."