Rush Hour: How two students made an acapella group on their own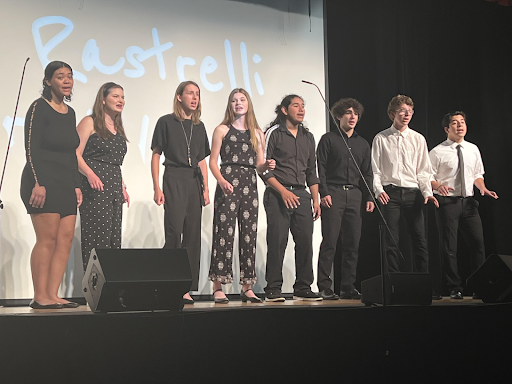 Last year Chloe Langford and Adriyanna Tesimu decided to create an acapella group at Mundelein High School. The idea proved a success as last year they pulled together a group of eight members, but this year they are looking to expand.
  Acapella is similar to a choir. It is a group of people who come together and sing. The only difference is that while choir is often accompanied by music an acapella group provides all of the sounds with their voices. 
   One of the biggest parts of an acapella group is the environment within the people and the music they sing.
   "My favorite part of it is that I just really love a cappella music in general because it's pop music that we're singing with complex harmonies," Langford said.
   Due to the schedule of the members, it is hard to find time to practice. They typically practice in the morning because that's what works best for everyone. The people in the group are very involved with other school activities as well like band and theater. 
   They performed a few times last year but are hoping for a full concert season with lots of performances for people to enjoy this upcoming season. The group plans on performing in the holiday concert and Spotlight.
   There is an audition process that includes the person singing a specific part of a song they were told to sing and a verse and chorus of a song of their choice to demonstrate their solo technique. Choir Director Cory Thomson helped with the auditions to decide who would be the best fit for the group. This is the only teacher involvement in the group as it is student-run and not school-sponsored. 
   A huge part of performing for anything is how you feel and it's different for everyone. You could be super nervous or you could be excited and not even care about the people watching you. For junior Grace DeMilio, it's an amazing experience.
 "When I perform it is truly a fantastic experience. I get to share my voice and message with others and it is awesome. Also when you are in a group you feel so supported and like you are one person." 
   The fact that Rush Hour is a student-run group leads to improving skills in teamwork and harmony in a workspace. 
   Grace mentions that "We get to teach each other the music and try to fix each other's mistakes. It is really us to make this group good."