MHS Boys' Soccer's 'Fab Five' 20 years later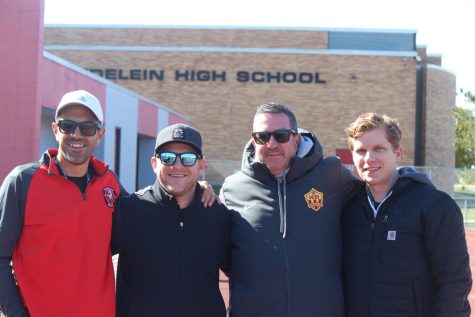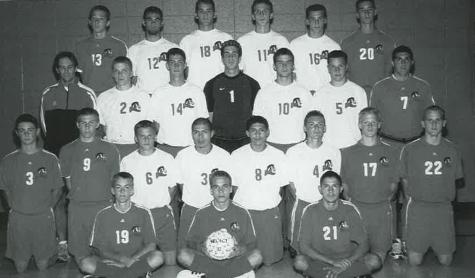 In 2002 Mundelein's Varsity Boys Soccer team won a regional. Twenty years later on October 8, 2022, five of the players reunited and were recognized at the boys soccer game against Jacobs High School. 
  They called themselves the Fab Five: Ernie Billittier, Kurt Bunelle, Scott Campbell, Casey DeCaluwe, and Scott Hill.
  They all went on to play soccer in college and several continue to be involved in their school communities as teachers, coaches, and principals. 
  "There's five of us, we're all just very very tight. We played club together and we played high school together. It was just a great group of friends that played here," said DeCaluwe. 
  Billittier said, "I can't think about my youth without thinking about this group."
  Like the experience of many who play high school sports, playing soccer at Mundelein helped them learn responsibility, teamwork, and leadership as well as inspiring many of them to their future careers. 
  "My experience was amazing playing soccer here. It kind of started my path to playing in college at Eastern Illinois and continuing to coach," said DeCaluwe. 
  And though they found success their senior year they struggled initially to play well as a team which made their later success that much more rewarding. 
  "We struggled as varsity my first three years and so that [winning] kind of felt like a sense of relief, like we were kind of where we were supposed to be. We had all dreamed of playing for our high school, so it felt like our hard work had paid off," said Billittier. 
  Not only did they win regionals, but the 2002 Mundelein Boys Varsity Soccer Team also beat Libertyville for four consecutive years after over 20 years of losing to them and then beat them in the conference playoffs. 
  But that success didn't come out of nowhere, it took focus, hard work, and one of their teammates, John Cape, stepping up to be a leader. Cape called a meeting and told the team off for being lazy and arrogant, telling them they needed to work much harder if they wanted to be successful.
  "He pretty much spoke to us like we'd never been spoken to in our lives. And that kind of also framed how I thought about team sports in general and the role of everybody and impacted me as an athlete in my college career and also as a coach later too," said Billittier.
  After that meeting, the team went on to win 13 games in a row. 
  On game day it was about focus and working together as a team. "Scott would always give us a team talk before the game that was part of our ritual," said Billittier. "Once we arrived I made sure to just switch off everything else. I remember I was like 'I'm dedicating the next three hours all of my attention and energy to soccer' and I just did. Every ounce of energy that I had, every piece of brain matter that I had, walking through that door was like my switch. I used to not talk to anybody until that team speech, and then it was go time."
  The hard work of the team and working together with the people they grew up playing with is part of what made their experience special and how they found a way to be successful. 
  "I think it just amplifies it if you have more stake in the game. I assume it feels the same way in every team thing whether that's theater or music," said Billittier, "It just gives you a sense of purpose, and placing your energy outside of yourself makes for a very heightened sense of worth."
  All of them agreed that their time spent at MHS taught them a lot about themselves and how they want to engage with their community.
  "To work for other people has shaped the rest of my life. I became a teacher, I became a coach," said Billittier.
  Soccer, the game they love, that brought them together as friends and teammates and helped them build a bond that has lasted much longer than high school, has remained a big part of their lives.
  "Just the team aspect of the game, being around your teammates whether I'm a Coach or a player," said DeCaluwe, "I've just always had great relationships throughout the game of soccer."