MHS presents Metamorphoses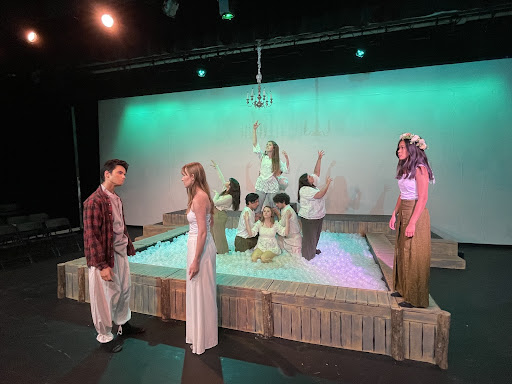 "Metamorphoses" was presented by the MHS Theater Department on October 27, 28, and 29. The play, originally written and directed by Mary Zimmerman, is the third Lookingglass Theater Company show presented at MHS along with "Trust" in 2015 and "Arabian Nights" in 2017. 
  Performed on a 200-seat onstage thrust, attendees were able to get a closeup view of the actor's performances of the actors' portrayals of figures in Greek Mythology. 
  Before the performance, Zoë Van Krey, an actress in Metamorphoses, shared her excitement for being in the show, "It's going to be a blast to both watch and perform in, and I couldn't be more excited. This is definitely like nothing Mundelein Theatre has ever done before, which always brings its uniqueness and challenges. The language in the entire show is consistently very poetic and full, which makes memorization more difficult at times, but very lush and interesting to communicate to audiences. The premise of the show is essentially a group of storytellers doing what they do best, whilst encouraging onlookers to look deeper into the world around them, as well as themselves." 
  With this play's uniqueness and poetic ambiance, actors performed real Greek stories being played out in front of the audience a few feet away.
  Sarah Page, who played numerous roles in "Metamorphoses," revealed the difficulties she faced during the performance, "I do play about 9-10 different roles in the play, and I think the most difficult thing with that is attempting to make every single one different from the others. My roles vary from a servant to a rich princess, so obviously, I have to play them all differently and make them all have their personalities to keep the play interesting. " 
  Juliana Myrant expressed how the Mundelein Theatre is a great opportunity for anyone. "If anyone wants to do theater but is nervous about participating, I would just say go for it. Our program has a lot of amazing opportunities for everyone, new or old, with any talent/experience level. We do seven shows a year and while a lot of them have already happened or are in progress, there's still time. It's not a full-time commitment, you can do one show a year or almost all of them, whatever you want in any level of participation. It's a super great community and it's so much fun getting to know the people in it."