AVID students garner over 2.6 million dollars in scholarships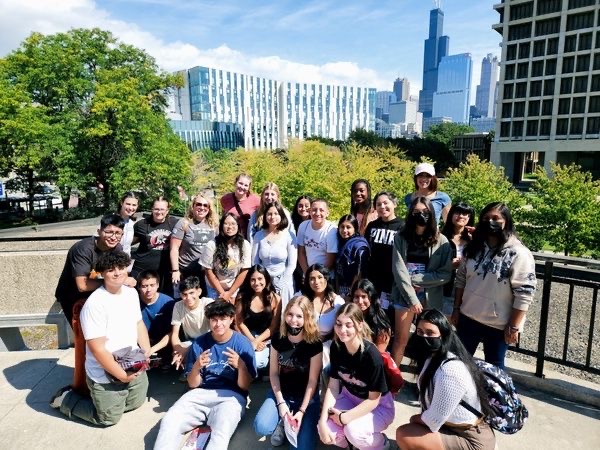 If you're walking on the second floor C-wing hallway and you happen to hear a loud bell followed by cheers, it can only mean one thing. More exciting news has been received. As the semester ends, many are finishing up their college applications, and even getting exciting news back. The ringing of the bell signifies a student in the AVID program has received good news.
   "That's how we start class every day," said Freshman Honors English Teacher, Reading Specialist, and AVID Teacher Kristen Behrens, "when [students] get accepted [into college] they get a bell ring. It's a big deal around here."
   The bell has been rung many times, and has many more rings to come. The seniors in AVID have been accepted into over 84 colleges, and managed to get over 2.6 million dollars in scholarships so far this year.
   "It's only November and they're well over 2.6 million in scholarships. In past years, [in May we] have gotten to 2 million," said Behrens. "They are killing it."
   AVID stands for Advancement Via Individual Determination, and it is an elective that students can take from freshman to senior year, and can join at any point.
   "It is a course that is built to help students be prepared for and successful in college. Students should take the AVID elective if they have a goal of attending a 4-year college or 4-year university," said AVID director Melissa Schaefer. "We work on study skills, we work on organization, we work on SAT/ACT prep, we do college visits, we help them through financial aid packages, and applying to college their senior year to make sure they not only get accepted into college but they get money to go there, then once they go there they know how to be successful in their college classes."
   Many AVID students credit the program as the resource that has helped them the most with the college application process. 
   "I'm a pretty big procrastinator, I tend to wait for the last minute for things," said Senior Gebriella Seleps. "But because of AVID, that definitely was not the case when it comes to college applications."
   Seleps joined AVID as a senior, and Senior Mia Dunaway has been part of the program since she was a freshman. Both have seen great success with the program. Dunaway has been accepted into five colleges, and Seleps has been accepted to eight so far.
   "While In AVID, I got accepted into all the colleges I applied to so far, which was really exciting," Dunaway said. "AVID helped me to make a resume that I later submitted to jobs and got chosen for. I've written several essays– they [my AVID teachers] helped me with my personal statement, applying to scholarships and anything related to college: making a college list, trying to decide what I want to do with my life, what I want to be, everything like that."
   Both teachers and students note that AVID has a very family-like atmosphere. Students and teachers alike develop close bonds.
   "One of the goals of the program is to build a family-like atmosphere. So students feel like they have a support in the building, someone they can go to," said Schaefer.
   The student friendships are strong within the program as well. Being part of the same program for four years has allowed them to grow closer.
   "My favorite part of AVID is definitely the people that I have met. I've made such special connections with all the people in AVID since I've been in the same class with them for four years," Dunaway said. "And with my teachers, because they're very honest with you and they really want to watch you succeed."
   Seleps also shared the same sentiment: "My favorite part is honestly getting to know people. With the amount of field trips we go on and time we spent together, I've grown fond of these people and we've built a community."
   Overall, students really recommend you take the class if you're looking to prepare for college.
   "There's definitely a stigma around AVID, and kids in AVID, that needs to be broken because a lot of people need the extra support that this program is going to offer and you shouldn't be upset that you need the support because it's a great environment and you're going to meet great people, and it's really helpful," said Dunaway. "You're going to be thankful in the long run for the decision that you made."