Rihanna's Performance at the Super Bowl was the real "Diamond in the Sky"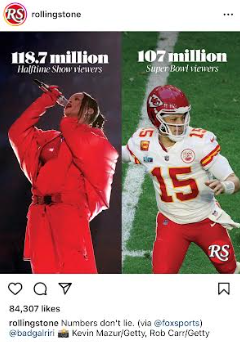 According to Rolling Stone Magazine, there were 107 million viewers for the Super Bowl this year and 118.7 million viewers specifically for the Super Bowl halftime show. This halftime performance by music artist, Rihanna, on Feb. 12, drew viewers in regardless of their opinions of her or her music.
  "There was a lot of hype about it, so I was not surprised when I saw her perform," sophomore Nick Bryan stated. 
  Like Bryan, Social Studies teacher, Susan Theotokatos, was also not surprised when it was Rihanna who stepped onto the stage.  
  "The Super Bowl halftime show in the last couple of decades has really become its own kind of entity, and usually the performers are high-end ticket performers that tend to be very popular pop culture artists who transcend the young and old. They've had Beyonce, Jay Lo, Shakira, and a lot of powerful women. I think she's done it years ago as well," said Theotokatos. 
  Rihanna is well-known by millions of people, many of whom had expectations for her performance. 
  Sophomore, Trey Halas stated, "Rihanna did not live up to my expectations. Her performance overall was pretty good, I liked the floating platforms, but the song choices were not up to par. First off, there were at least two songs she sang that I'd never heard before and I'm a Rihanna fan. Secondly, probably her two most iconic songs 'Disturbia' and 'Don't Stop The Music' were not even played." 
  Bryan also thought that her performance wasn't "even that dazzling," but it was her side dancers who really stole the spotlight and attention. 
  The performance by Rihanna herself was different compared to other performers from past halftime shows. 
  "Initially I was thrown back because we're so accustomed and we're so hyped by these halftime performances, that our expectations are lifted, and it was almost like a Debbie-Downer because her performance was subdued and minimalistic," said Theotokatos. 
  Theotokatos added, "Some of the things that I read after the fact was congratulating her for a great performance because she captured this whole minimalism that we don't always expect. And she's like 'hey this is the artist that I am, no I don't have a new song that I was going to perform tonight, I am going to perform some of my greater hits and I'm going to give you that.'"
  After the performance, it was revealed that Rihanna is currently pregnant. 
  Theotokatos continued to explain how this announcement of Rihanna being pregnant justified some of her initial critics. 
  "The [Super Bowl halftime] shows tend to be firework shows. They tend to have artists [that] are very physical in their performances. There is a lot of acrobatics and a lot of movement that we see," said Theotokatos. However, the extent of Rihanna's movement was minimal due to the high platform that she stood on for most of the show and her ability to dance while being pregnant. 
  Even though Rihanna hasn't released new music in a while, she still has a devoted fan base and can deliver a powerful performance. 
  If she was to release new music, Bryan stated that he would like her to collaborate with some new artists in order to produce songs like she has done in the past with artists like Kanye and Jay Z. 
  Theotokatos thinks that it would be interesting for Rihanna to release music that is impacted by her recent life experiences. 
  "She has come out with a lot of good, consistent music that has resonated with a lot of people, so her messaging would still remain powerful," said Theotokatos, "but maybe she would add something relating to motherhood." 
  Regardless of the critics of Rihanna's performance, she delivered a show that kept people at the edge of their seats whether they liked it or not. The Super Bowl Halftime show will always come with unrealistic expectations that put music artists/performers in a tough position to surpass