The Teachers Own The Classrooms at MHS
While not a literal statement, it might as well be because the MHS staff of teachers are ones the students will miss this upcoming summer.
A teacher can either make or break a classroom; while there certainly have been some awful teachers in history, MHS isn't adding to that list. As the school year of 2021-2022 comes to a close, here is a look at the individuals who have helped all students, from the seniors to the freshmen, succeed during their times of learning. On May 13, a day like any other, students and teachers were photographed in their natural scholarly surroundings – in class and full of energy.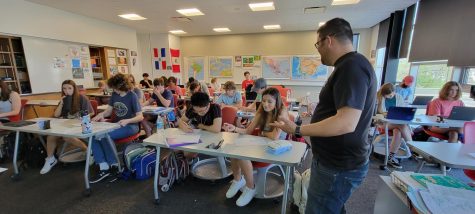 Photo by Guadalupe Duarte
Ready to pass Spanish Class – Spanish Teacher Paul Franzen gives examples of better words to substitute for dull ones in students' final essays. Franzen then shared his thoughts about how he felt about the dwindling school days. "To be honest I'm super proud of the growth my Spanish students have shown. At the same time, I'm sad to see the seniors graduating and leaving us. At the end of the day, however, I'm relieved because it's been a long year for all of us."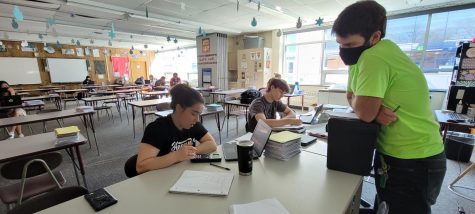 Photo by Guadalupe Duarte
A great teacher is always happy to help a student, no matter how hard the task. Math Lab Teacher Brett Sorby helps a junior with her math homework.  Sorby is well-known for such acts as every day of the week he stands in the same space waiting for any student to come in looking for math help.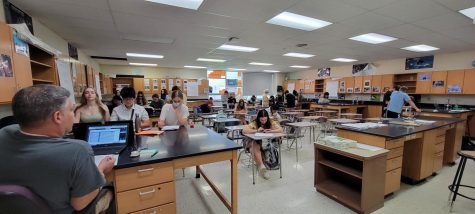 Photo by Guadalupe Duarte
Real recognizes real: Science Teacher Serry Pollock is shown in his biology class as he said, "Those of you doing nothing better get a 100 on the final." He later turned around to state, "I'm just messing with them. They're supposed to be studying for the final, but I'll cut them some slack; they've been working hard all year."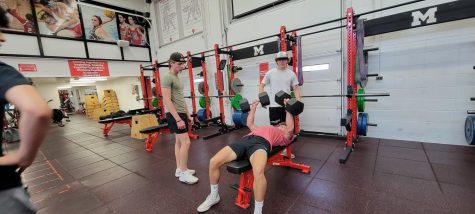 Photo by Guadalupe Duarte
The struggle is seen throughout the room: Students of P.E. Teacher Craig Stocker's third period watch as a fellow student struggles to lift 65 pounds on each arm.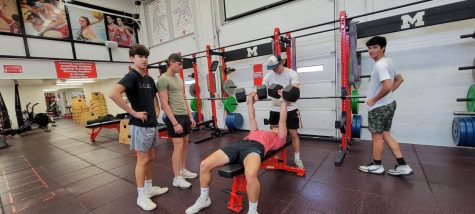 Photo by Guadalupe Duarte
Give him a shot: A group gathers to watch the weight-lifting accomplishment of a student as Stocker yells across the room, "Come on, show this journalist your progress. Lift it! Give him a hell of a shot."