Beefing up security: Mundelein works towards making school safer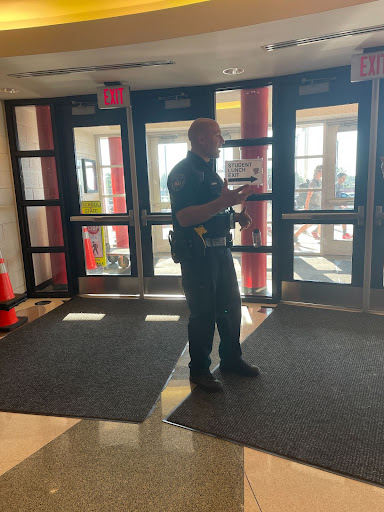 Due to a recent rise in public shootings around the country, including the Fourth of July Parade Highland Park shooting this summer, Mundelein High School has increased its security. Fred Kliora, the school's security director, and Officer James Schult, the school's resource officer, are two specific MHS staff members who are working diligently to do this. 
 "Before parents or anyone from the outside could just walk in, now they have to go through two sets of doors. They have to ring a buzzer and are allowed into one door with the other one still locked. Then they have to give us identification and we run it through the system to make sure they aren't wanted or have certain types of crimes. . .and allow them in only if they have valid business here," stated Kliora about one of the recent changes.
   Opening the front security office last October, was one of the many recent safety measures that Kilora has implemented. On top of that, Kliora has also hired additional security staff members and updated the school's camera system. 
   Before being the school's security director, Kliora was the school's resource officer from 2000-2005. He is also retired from the Mundelein Police Department as a police commander yet he "still works at the sheriff's office on a part-time basis," he added.
   An example of how Kliora uses his relationship with the Police Department is how he "issued all the police officers key fobs so that they can have entrance to the school 24 hours a day." 
   In addition to the key fobs, "the police department's dispatch system and police officers and their squad cars can pipe into our security cameras so that they can always see what's going on. I have their officers come to the school and practice their tactical responses. . .so that they're familiar with the school and its layout," Kliora said. 
   Kliora also explained that he is going to work with the Mundelein Police Department to train the MHS Security in first aid, CPR, and what they call "Stop The Bleed." 
   The security staff members are also a part of ALICE which stands for Alert, Lockdown, Inform, Counter, and Evacuate. This safety protocol helps to educate the staff on how to respond to potential situations. 
   Similar to Kliora, Officer Schult is also trying new things to help better MHS students and their safety. 
   Schult has had plenty of experience in keeping communities safe. "I am working on my 22nd year as a police officer, I have been in different roles within the police department. Currently, this is my second year as a school resource officer at Mundelein High School. . .This is by far one of the best positions you can have within the police department, I love it," Schult said. 
   Schult is currently the only active police officer here at MHS full-time. 
   "I work closely with the security officers and the deans. One of the biggest things that an SRO [school resource officer] could do is build relationships with the students to bridge the gap between the police department and the citizens in our community," Schult stated.  
   Schult tries his best to engage with students and get to know them. He does this by "getting out into the hallway and striking up conversations," he specified. One thing new that he is doing to make even more connections this year, is to go into classrooms, whether that be teaching something or just participating in whatever the students are doing.
   Not only do staff members and police officers like Schult work to keep this school safe, but the MHS students can play an important role as well. "A lot of times people are unsure whether to report it because they're not sure if it's anything. But if it's nothing, we don't mind, that's our job is to investigate, we hope it's nothing, but for the small chance that it is something and they were to give us that information at the beginning that's very helpful," Schult expressed. 
   Both Kliora and Schult emphasize the importance of the motto, "see something, say something." They want students to know that they welcome any tips, whether they be anonymous or not. 
   MHS student, Sophomore Gracie Greenfield, said that she does feel safe in Mundelein High School. However, "It would be helpful to have more security guards during big school events," she offered. Gracie also believes that if students see anything that promotes violence or potentially leads to it, then they should definitely speak up. "You just don't know what could happen as a result," she stated.