Activities, sports and clubs, Oh My!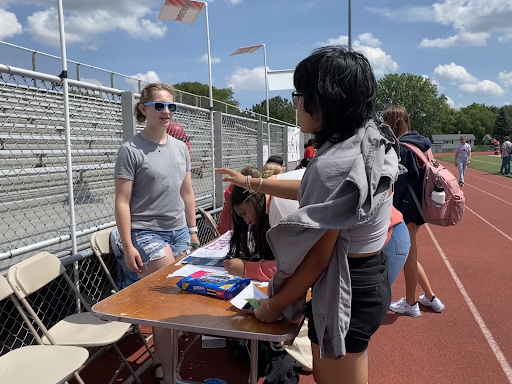 Follow the yellow brick road! Well, more like follow the red running track. The sights surrounding the track– rows and rows of tables, signs swinging in the wind, pens rapidly scribbling down names and students walking around– can only signify the start of one thing: Mundelein High School's annual Activities Fair.
   At the beginning of every school year, MHS hosts an activities fair in the football stadium during the school day. The purpose of the fair is to showcase all the amazing programs that people can join at Mundelein.
   Many students head outside during their lunch period or with their Freshman Advisory class to check out all the booths. Students who are already members of certain clubs or sports sit at the tables, trying to recruit new members. 
   Mundelein After-School Coalition (MASC) President, Adriyanna Tesimu, junior, was among the students behind the booths. 
   "I think recruiting people is a good idea to help further our program," Tesimu said. "I know that my booth is gonna be really good to get some freshmen and sophomores and pass that legacy on."
   Tesimu, like many other club leaders, have high hopes when it comes to gaining new members. However, at the Activities Fair, it's not only clubs being featured. 
   Athletes from every season are advertising their sport to others, including Sophomores Maritza Coronel and Amelia Cardoso, who were at the Girls' Lacrosse booth during fifth period. 
   Coronel expressed how helpful new high schoolers may find the fair.
   "It's good to find all the sport options, because it's hard to think about which one to do, and there's not a lot of info [out there] about what there is to do," Coronel said.
   Along with having a vast array of programs to choose from, students have the added opportunity to speak with current members of the activities to truly understand and know what a program may be about. 
   Some students, such as Sophomores Enayda Bustos and Sarai Herrera expressed hesitance to join the club Girls Who Code, until they spoke with Senior Jill Kennicott, who is a board member. 
   "She made us confident," Herrera said.
   Being able to talk to a current member was very helpful to them, as they learned that the club wasn't just coding 24/7. Kennicott reassured them they didn't need any experience with coding to join, just a willingness to try.
   "It's not even always coding. It's getting to know each other and making new friends [too]," Bustos said.
   Every year the Activities Fair never fails to expose students to new opportunities. This school tradition is what helps build up the community at Mundelein, and truly nurtures involvement within the student body.
   Joining a new program may be a daunting task, but the reassurance and encouragement from older members help potential members take the first steps.
   "They [recruiters] don't make you scared scared," said Bustos. "It's a fun scared. Like oh, maybe I should [join an activity]. They make it sound more exciting."