Rivalry Match
On Thursday, April 28, the Mundelein boys varsity volleyball team took on rival school Stevenson High School in a highly anticipated away game. The Mustangs went home proud despite the match's outcome, a loss to Stevenson, and even celebrated their hard work together with a post-game team meal. On the team's playing, Senior Co-captain Tyler Vrska said, "I feel like we had [some] injuries that got in the way."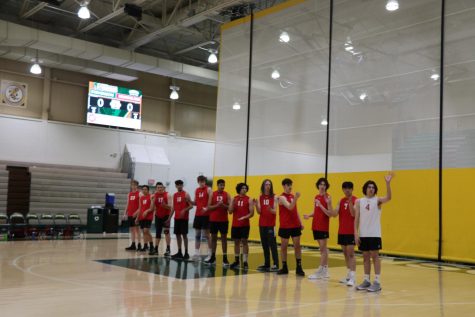 Photo by Maggie O'Brien
Starting Lineup: At an away match against Stevenson High School, the varsity boys volleyball team stands for the National Anthem and lineup announcements. Senior Tyler Vrska, co-captain and libero for the varsity team, waves as his name is called by the announcer.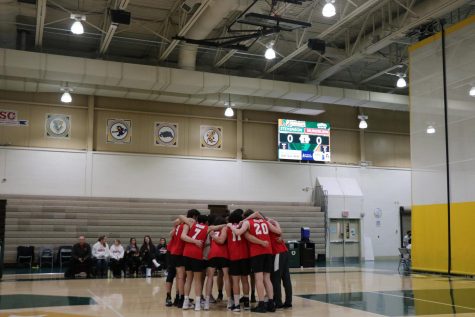 Photo by Maggie O'Brien
Pre-game Pep Talk: The boys volleyball varsity team rallies around one another for a pre-game huddle. In the huddle, the team talks about how they will take on Stevenson, a top competitor, together with teamwork.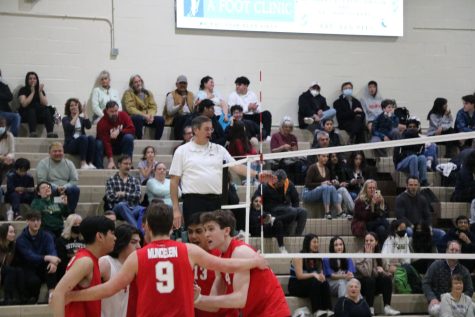 Photo by Maggie O'Brien
Come Together: Players on the varsity boys volleyball team come together in a huddle to celebrate winning a point against Stevenson. The team rallies together with new encouragement and a sense of victory going into the next point.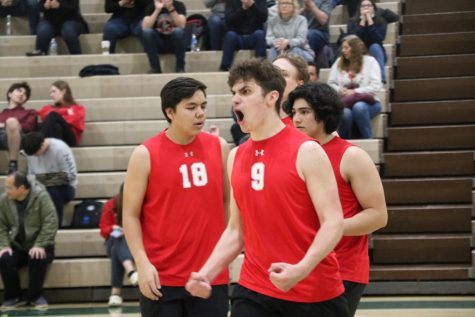 Photo by Maggie O'Brien
Hyped Up: After a successful play, gaining a pivotal point, Junior Matthew Kawa celebrates energetically. This energy and celebration was seen by Kawa throughout the game as he played with a lot of energy.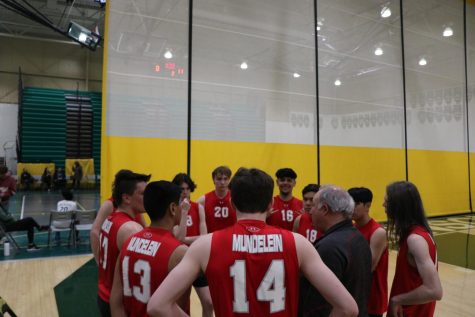 Photo by Maggie O'Brien
Time Out: At an important moment in the game against Stevenson, Varsity Head Coach George Dressen calls a time out. The team talks, and players on the court are able to hear the perspective of those who have been on the bench. The benched players watched how the game was going and noted different pieces of advice to give to the players on the court. On watching from the bench, Senior Martin Sahagun said, "Me and Kevin Mann were on the sideline watching like no other, and it was a sight to behold."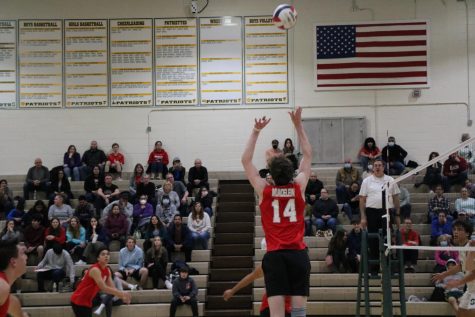 Photo by Maggie O'Brien
Setting the Way: Senior Setter and Co-captain Ryan McElligott jump sets a ball to the right side for a kill. McElligott, a key player in the Mustangs' lineup and trusted co-captain, helps set the team to success with many assists throughout the night.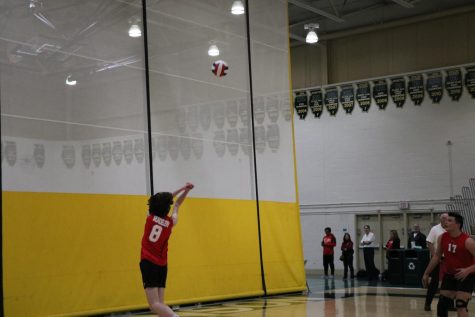 Photo by Maggie O'Brien
Saving the Play: Saving a shanked pass, Freshman Kevin Mann freeballs the volleyball back into play. Mann saves the point and helps his team get one step closer to a victory.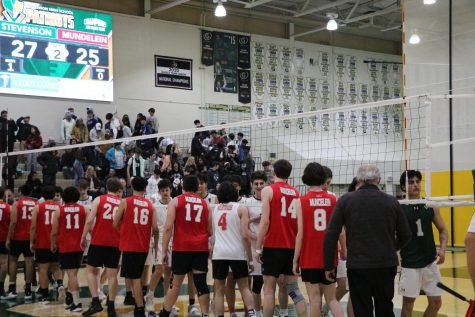 Photo by Maggie O'Brien
Heads Held High: After playing a tough game, the Mustangs lose 27-25 in the second set against Stevenson. While this was not the outcome for which the team was hoping, they were still very proud of how the team as a whole performed throughout the second set. With closing remarks on the match, Vrska said, "The second set was probably the best set we've played all year. We had strong hits. It was just a great game."