Hit show "The Boys" features fantastic plot, characters, comedy, and more!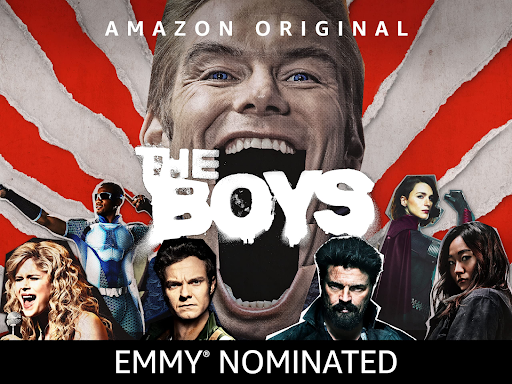 Disclaimer: This series has been rated 18+ or TV-MA for graphic violence, graphic nudity/sexual activity, foul language, and smoking.
  "The Boys," a superhero comedy/action/drama, premiered in 2019 and is available for streaming on Prime Video. Based on the comic of the same name, the show stars Hughie Campbell, played by Jack Quaid, as he joins an anti-superhero group called "The Boys" led by Billy Butcher, played by Karl Urban, so he can get revenge for the killing of his girlfriend by the superhero A-Train, played by Jessie T. Usher.
  The series takes place in a universe where superheroes are popular celebrities and part of the mega corporation "Vought International". While they are adored by the public, most of the superheroes in the show are terrible people who abuse their power and fame. 
  Kurt Dumblauskas, junior, described the superheros of this world. "It takes an interesting look at superheroes. Typically we see superheroes as people that can only do good, for example Superman. Superman is always doing good things, he's always saving the day; however, in…"The Boys", it portrays these superheroes as regular people with very regular flaws, and it really shows how absolute power can absolutely corrupt," said Dumblauskas. 
  The series also features the superhero Starlight, played by Erin Moriarty, as she joins Vought's main superhero team "The Seven" and discovers that being a major hero is not everything she thought it would be. The star of "The Seven" and the show's main antagonist is Homelander, a Superman parody character played by Anthony Starr.
  Jude Burroughs, junior, explained how well Starr portrays the role. "The acting is very good in the show, especially by Anthony Starr who plays Homelander. In the show Homelander is absolutely terrifying and I doubt he would be nearly as scary with a different actor," stated Burroughs. 
  Dumblauskas also felt Homelander is played particularly well in the series. ""He's able to create a character that is so strong and so scary. When I watched that show I was scared of the Homelander because I saw his mental instability. I saw his power and what he could do, and I thought he did a really great job of showing that through his acting," said Dumblauskas. 
  Comedy is also a major part of the show, particularly profane jokes and moments. The series also parodies real world subjects in clever and comedic ways, such as massive corporations like Disney being represented in Vought International.
  "I like how funny the show is and how it is not afraid to shy away from current topics in our society," stated Burroughs. 
  "The Boys" is also intensely gory, with gruesome deaths. This and the variety of superpowers seen in the show are made possible through fantastic special effects.  
  Dumblauskas explained just how grisly the show is at points. "Some of the scenes they show, you would need some good special effects, because watching it, it makes me cringe and want to look away because they're so accurate with their animations of blood and guts," stated Dumblauskas.
  "The Boys" also features a masterfully made ongoing plot, as the characters strive to take down Vought International and their slew of superheroes. 
  "The overall plot is very interesting and really keeps viewers wanting to come back for more," said Burroughs. 
  "The Boys" finished its third season this summer and while a fourth season has been confirmed, no release date has been announced.